All Saints' Roof Project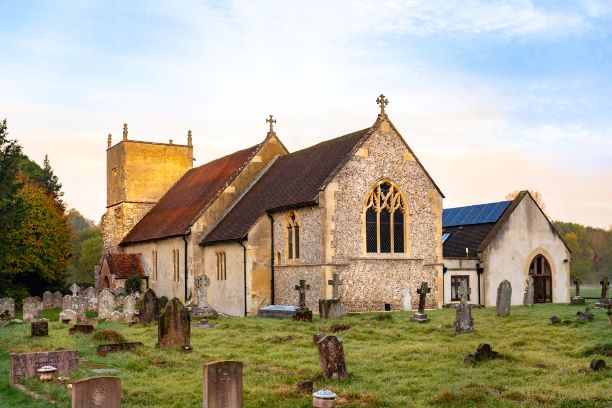 The challenge
A recent survey of the All Saints' Church has identified the need to totally re-tile the church roof. In early 2020 the All Saints' PCC set up a Project Team, chaired by Tom Wilson, to define the extent of the project, to identify the likely cost and to recommend the funding options.
At the same time the PCC asked the Project Team to explore insulating the roof, upgrading the heating and lighting, improving the church paths and identifying any required tree works.
Where has the Project Team got to?
Soon after the formation of the Project Team the pandemic struck and the resulting lockdowns significantly slowed progress. During this time it became apparent, from various instances of leaking, that the re-tiling of the roof has become the must-do priority. Following further exploration of the roof a Schedule of Works was drawn up by Clive Spencer and estimates obtained from roofing companies. As a result the Project Team has concluded that £125,000, which includes insulation and an appropriate contingency, will be required for this element of the project.
In addition estimates have been obtained for the other works outlined above which in total amount to £50,000, meaning an overall funding requirement of £175,000.
Can we raise £175,000?
Given that the church has minimal cash reserves it will not be easy. But All Saints, apart from being our Parish Church, dates back to the 12th century and is the most important part of the heritage of Upper Clatford. Indeed 76% of residents responding to the recent Neighbourhood Development Plan said that the church is an important part of the local community.
So with a fair wind we will raise the £125,000 for the roof and, with a strong wind, we will raise the full amount.
How?
We are setting out to appeal to all those who have an interest in the church, both as the most important heritage building in the village and as the parish church. There will be various strands to our fund raising as outlined below:
Sponsorship of roof tiles:
We will need 16,000 new tiles for the project. We will be seeking sponsorship for these tiles at £4 per tile. This will be kicked off by a poster door drop in late June, supported by announcements on appropriate websites and social media pages.
Sponsorship of roof tiles will also be offered at US$5 per tile to descendants of Stephen Hopkins in America. This will be done through the Facebook pages that have been built by Julia Shah in the village.
If we can get sponsorship for all these tiles we will receive £64,000 plus gift aid where relevant. We already have early commitments for the sponsorship of 6,000 tiles. See below for the Sponsor a Tile Progress Chart of All Saints' Roof!
Local events:
We have £7,000 received from events that have already taken place (the Winter Lectures organised by the Crosthwaite-Eyres and the recent Commonwealth War Memorial talk by Phil Wilkinson). Further events that have been planned include:
Jazz in the Garden at The Old Rectory on 4 July 2021 (organised by the Wilsons)
The Flower Festival in August 2021 (organised by Jane Kennedy)
2 Winter Lectures in early 2022 (organised by the Crosthwaite-Eyres)
An evening of Opera in summer 2022 (organised by Lynda Gent).
These should raise between £15,000 - £20,000 in total. We are hoping that more local events will be arranged over the coming months, particularly those that attract funding from beyond just the local community – perhaps sponsored runs, bicycle rides etc. Can you help – thoughts please to Tom Wilson, email [email protected].
Appeals to Funds and Trusts:
We will also be applying for funding from a number of Trusts and Funds that support projects preserving heritage assets. We had hoped that this would prove a major source of funding but it has become apparent that, due to the pandemic, a lot of such organisations are less interested in supporting capital projects such as ours and are now concentrating on projects bringing skills and jobs, inclusion, a better place to live and a benefit to the local economy.
Nevertheless we have identified a number of trusts and funds worth applying to and expect to have some resulting success.
Other donations:
Finally we will be applying to a number of other individuals and local organisations that may have an interest in supporting the future of the church.
For more information on events or to be kept up to date on progress:
What to do if you want to make a donation.
Donations can be made either;
Through our JustGiving page
Please click this link https://www.justgiving.com/fundraising/all-saints-church-roof. Please do tick the gift aid box if you are a UK tax payer and able to do so.
or:
By cheque made payable to "All Saints PCC"
Please download and complete the Donation Form below, and send it with your cheque to:
Charles Crosthwaite Eyre,
The Old Malthouse,
Upper Clatford,
Andover SP11 7QL
Many thanks for your interest and help.
When will work commence?
We will not be able to start the roof work until we have the necessary funds received or committed. It is unlikely that this will be before spring 2022. The church will need to be closed for around 4 months as the roofers will need safety nets on scaffolding inside the church.
The other heating, lighting etc projects will follow on from there depending on the level of funding we receive.
What funding ideas have we overlooked?
Inevitably we will have missed some potential sources of funding – some obvious some less so. If you have any thoughts, please do drop an email to Tom Wilson ([email protected].) or call him on 01264 352999.